SCNX can not continue offering free versions in the current extend without additional support from users like yourself.
We are currently hosting more than 1000 Bots for free. In the past, paying user have financed this, but we could not cover hosting costs this month. Please support SCNX by purchasing plans or memberships if you don't want us to restrict the free version even more.
Support SCNX financially
This is the easiest and most effective way of supporting SCNX.
Support with SCNX-Plans
This is the most common way and recommended for most users. In addition to supporting us, you receive benefits like your own modmail bot and more. Please compare all available plans below.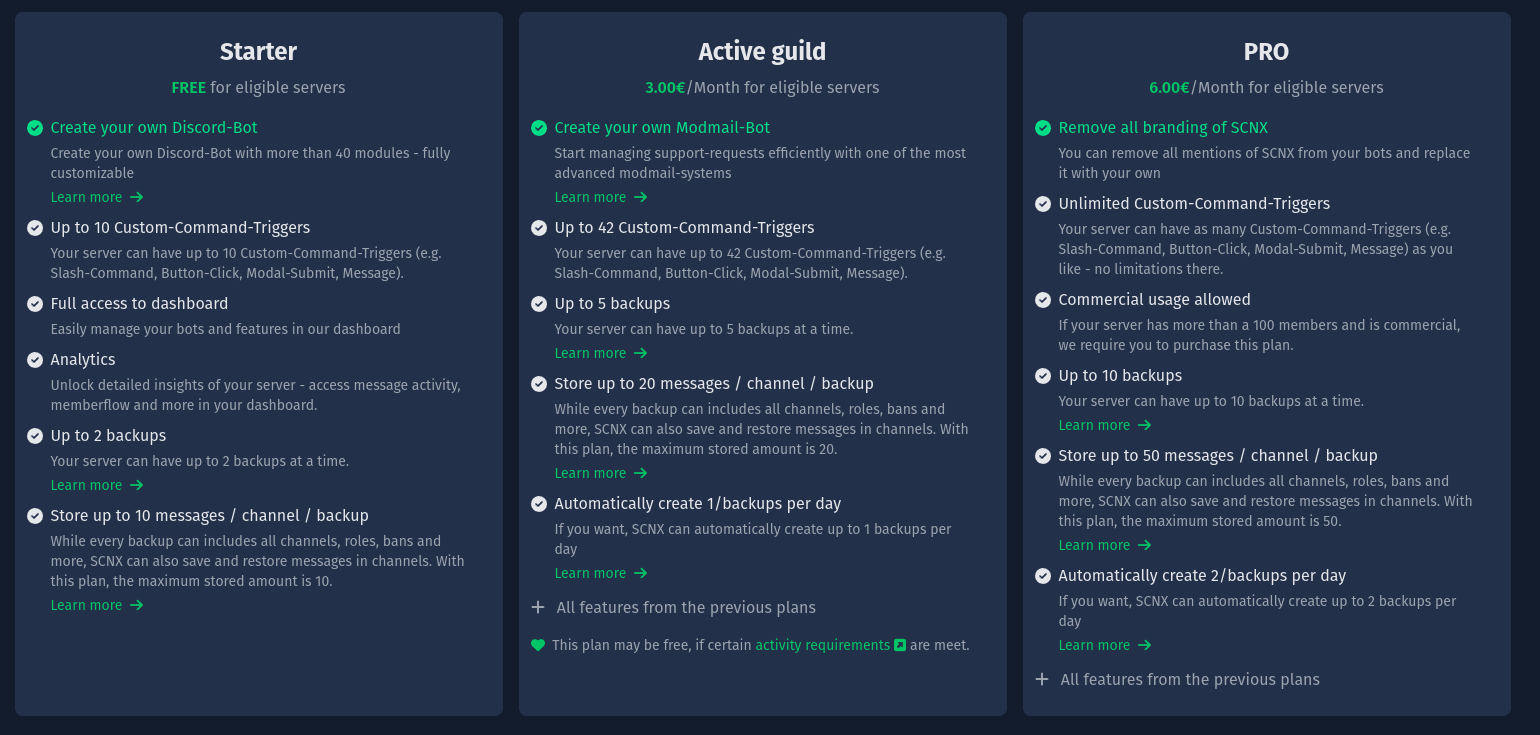 To purchase a plan, open SCNX, select your guild and open "Plans & Subscriptions" in the navigation panel. There click "Upgrade" and follow instructions. You can either purchase a plan for a month (pre-paid) or start a subscription. We support most payment methods, including Credit-Card, Sofort, paysafecard, PayPal & more.
Support via Membership
In contrast to Plans these Membership-Plans do not come with any tangible benefits, instead you support development & receive Early-Access, Behind-The-Scenes and other similar benefits. These are monthly subscriptions (but can also be pre-paid, similar to plans).
Support via Donations
You can donate via PayPal, Credit-Card, iDeal, bunq, Bancontact or Sofort. If you want to donate as a subscription, visit scnx.app/scam.
You can also buy credits and donate them.
Support non-financially
No money - no problem - you can still help us!
Here are some ways you could help SCNX:
Spread the world - tell other Server-Owners about SCNX and help them sign-up.
Help users on our Discord - simply answer to threads in #public-support - we might even invite you as a helper into our team!
Create tutorials about SCNX on YouTube or any other platform